BestSynapse – An open-source Synapse UI based on BetterSynapse
Requirements
.NET Framework 4.8
Windows 10/11 (NOT TESTED WITH WINDOWS 11, BUT SHOULD WORK)
Synapse X
OLD 2019/2020 scripts on repository. May be bannable!
INSTRUCTIONS
Download BestSynapse.zip from the link below
Extract BestSynapse.zip inside your Synapse X's Installation
Launch BetterSynapse.exe
Enjoy 🙂
Releases
Releases: Here
VirusTotal
VirusTotal: Here
Information
Developed by ThunderKid#8167.
BetterSynapse features:
Good and easy to use UI.
Script hub with tons of scripts to choose from.
some other stuff or smth idk lol.
Changes by ThunderKid:
Fixed crashes on open (they were due not handling image not found error for scripthub thumbnails)
Made it download monaco automatically if not found
Improved design
Fixed Attach detection by adding some more checks
Made it download SLInjector.dll automatically if not found
Funnier loading messages
Fixed settings not working properly
Fixed RainbowBorder
Modified logo to difference it from common Synapse (useful if you have both linked on taskbar)
Improved code a bit
Reinstall Roblox
Fixed resizing bug.
Variable name randomizer (beta)
Known bugs
Very rarely it crashes while loading, if this happens you just need to open the application again
If the application crashes while loading i sadly can't do anything about it as it's because sxlib is unstable
Thumbnails
Loading
Main
Settings
Script Hub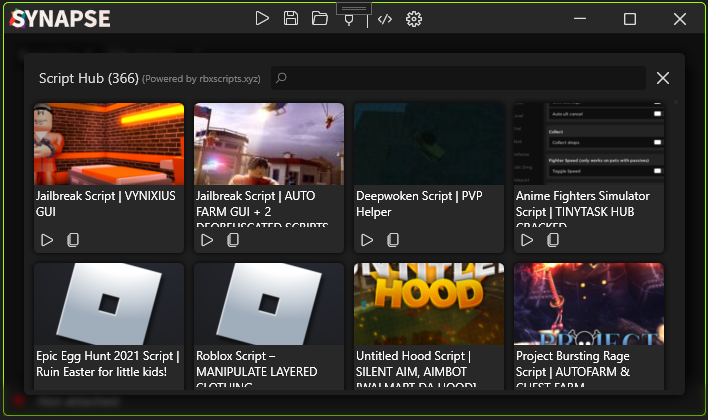 DISCORD: https://discord.gg/7K8hq3KMVT
GitHub